NAMDET's main conference for 2023 is being planned and managed by the NAMDET Wales Regional group and is booked for the 14th and 15th November 2023. Our networking dinner is booked at the Mercure Hotel in the centre of Cardiff and followed on the 15th November by the main conference itself.
Details, theme and costings to follow but please keep this date in your diary. Look out for news posts, updates and booking details.
---
Conference 2022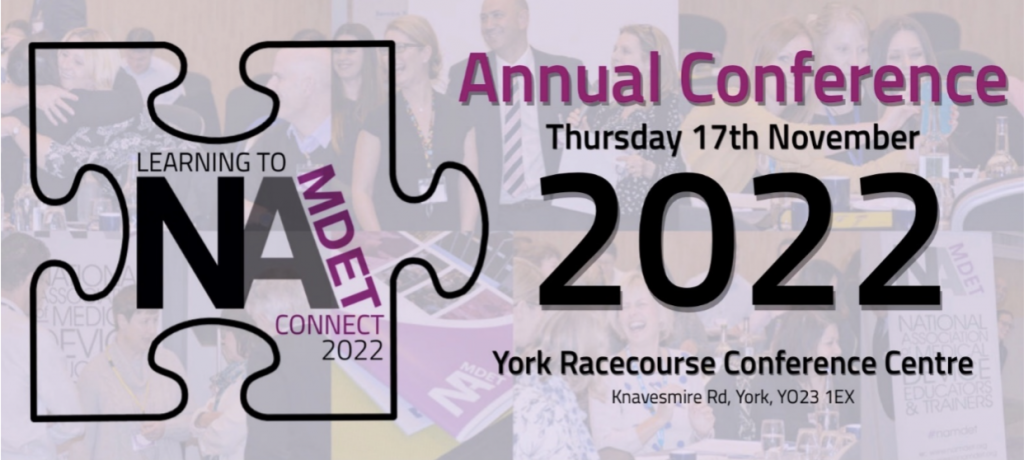 This year's conference theme is Learning to Connect, focusing on how NAMDET is best placed to help drive forward medical device training, assessment and competencies regarding connectivity within healthcare and networking with others. Speakers from the NHS, regulatory bodies, industry, and medical equipment companies will share their insights and how learning to connect with medical devices takes centre stage. NAMDET members will also be sharing their projects.
There are no upcoming events at this time
Please see below flyers with information and can be downloaded and shared with members and colleagues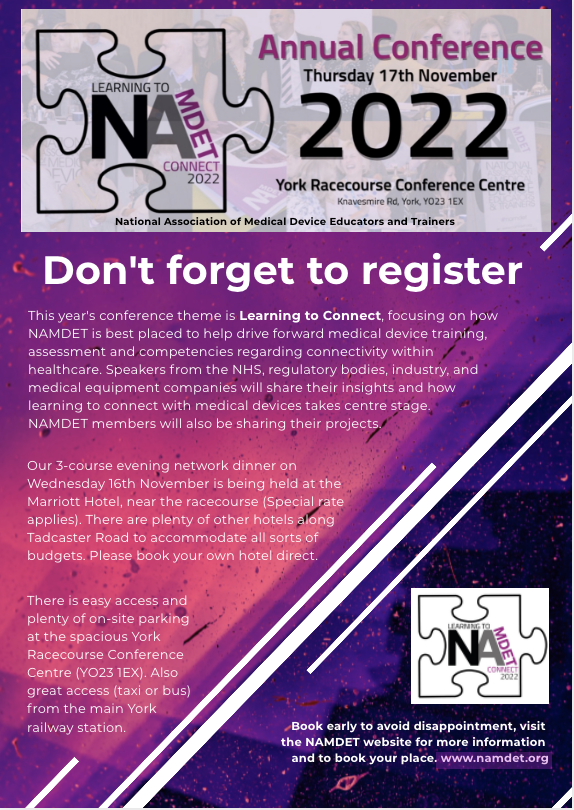 Don't forget to register. There are 2 tickets available for the conference. NAMDET Member (£65) and Non-Member at (£85). In addition, we have the 'Networking Dinner' on Nov. 16th at the Marriott Hotel in York (£25). Book your tickets via the main website EVENTS page, or follow the Event link above.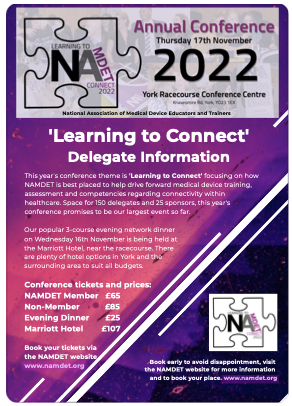 Delegate information flyer outlining conference theme and options for tickets. Book your place, or request an invoice and place an order for tickets via the EVENTS page on the website, or follow the EVENT link above.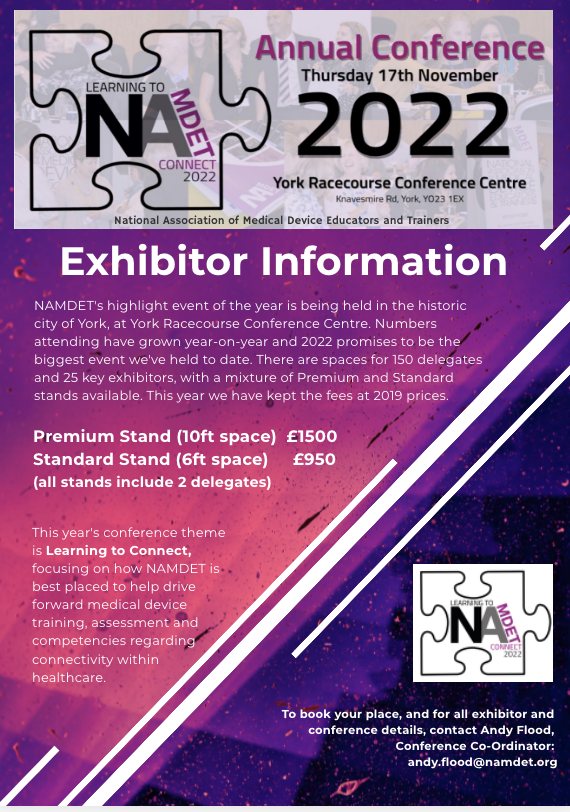 Exhibitor opportunities for Premium (10ft) and Standard (6ft) stands. Includes 2 delegates per stand on a first come-first-served basis. Contact conference organiser for more details and reserve your place.
Conference Agenda; Subject to Change. Take a look at the invited speaker list and checkout the content and agenda for the day.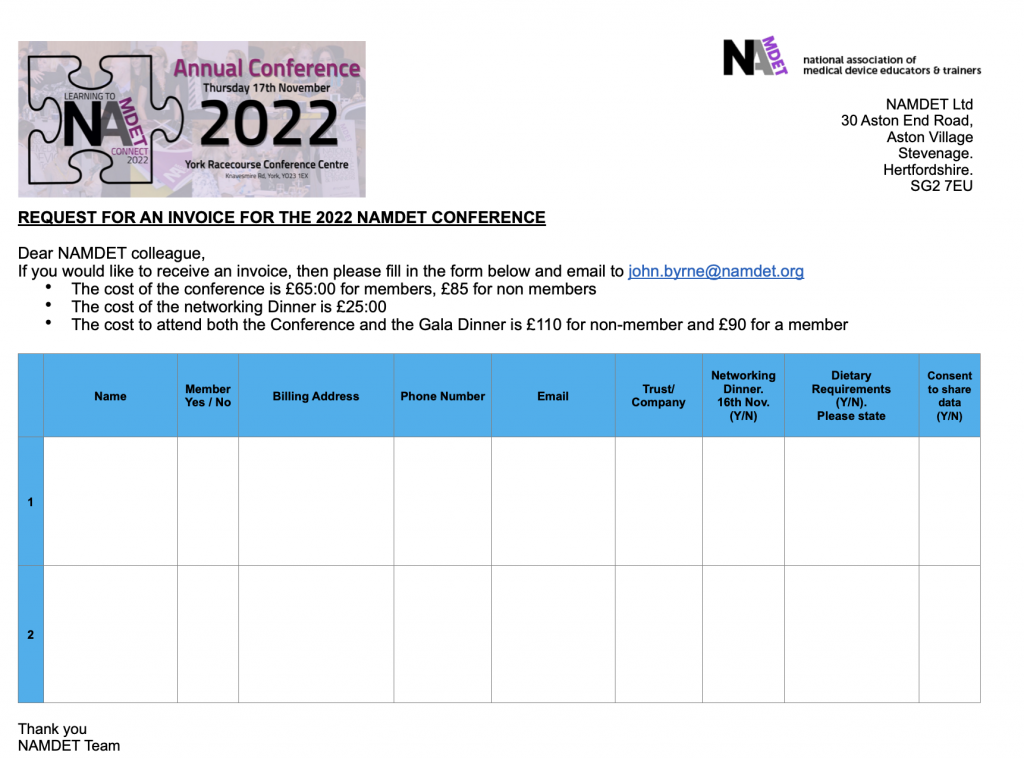 Request for Invoice for Conference 2022.
For those that need to request an official order and invoice to book a place at conference 2022, please download the attached file.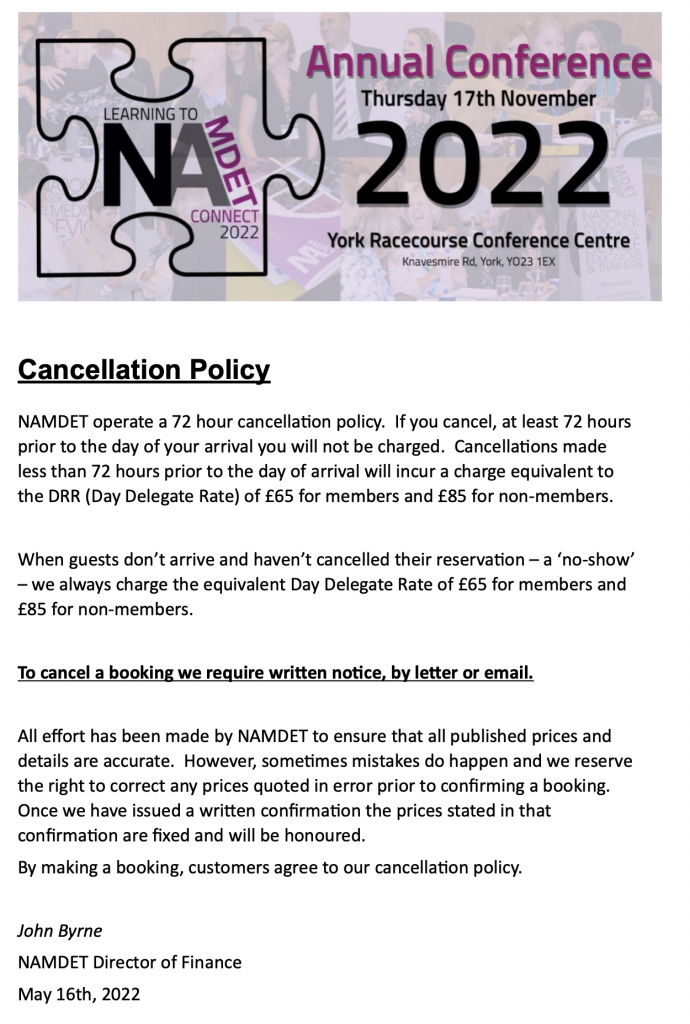 Cancellation policy
Please see the NAMDET conference 2022 cancellation policy for your information
Gala Dinner Menu Choices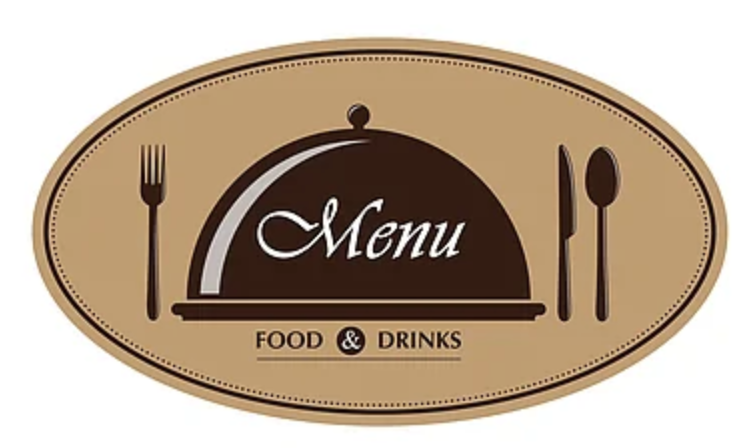 Main Course:
Fish, Chips & Peas (mushy and garden) with Condiments
Beef & Onion Pie with Chips or Mash & Peas
Vegetable Pie with Chips or Mash & Peas (Vegetarian / Vegan friendly)
Dessert:
Sticky Toffee Pudding with Toffee Sauce
Jude's Salted Caramel with Ice Cream or Custard
Selection of Mini Desserts
Selection of Yorkshire Cheeses- Supplement of £8.00 per person
Followed by Tea, Coffee & Mints
Includes table wine, beer and soft drinks